Western Digital External Hard Drives Review!
This is a review on the Western Digital External Hard Drives. It will give a brief introduction to Western Digital and their External Drives before listing a number of Western Digital's top drives and reviewing them. The review will also give links to other websites where you can go to find more information on the hard drive and if you desire to buy the hard drive.
Introduction
External Hard Drives are an excellent way to backup your information and preserve your memories.
Western Digital is a data storage pioneer and is a longtime leader in the hard drive industry. Personally I would highly recommend Western Digital as I have never had a problem with any of their products.
Reviews: Western Digital External Hard Drives
These are some of the best External Western Digital Drives that I could find. Have a look at them and see what you think. If you like them then find some more information on them by following the link and if you really like it then why not buy it?
Build the ultimate PC with help from TheNerds.net!

---
Western Digital My Book Home Edition 500GB External FireWire/USB/eSATA Hard Disk Drive

Your baby's first step, your wedding in Bali, all your important milestones… all captured in digital photos and video.
What could be more important? Store them safely and keep them backed up on a My Book Home Edition triple interface external hard drive.
With this elegant, collectable product that takes no more space than a paperback book, you can save a copy of your photos to an online sharing service, duplicate your e-mail and contacts to your iPod, and back up all your precious files to your My Book. Set it and forget it; every time you save something it's automatically backed up.
---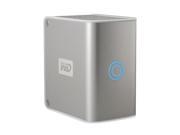 Western Digital My Book Pro II 1.5TB 3.5″ External Hard Drive

Extra data protection – For extra data protection, dedicate half the capacity for mirroring and automatically and instantaneously back up data every time you save it.
Extra-fast performance – The lighting-fast combination of FireWire 400/800 and RAID striping yields the speed you need for fast, smooth video editing, an extra-responsive Photoshop scratch disk, rendering complex 3D objects or special effects, and saving huge blocks of data in record time.
Intelligent drive management features – Automatic power-up, Safe Shutdown, and LED activity lights make this storage system especially easy to use.
Quiet and cool – An efficient convection cooling system and a thermostatically controlled fan keep this unit reliably cool and remarkably quiet.
---
Western Digital My DVR Expander Hard Drive – 500GB – Serial ATA/300 – External SATA – External
Record more delete less. Add My DVR Expander from WD to your eSATA enabled DVR and you'll instantly add space for up to 60 hours of high-definition or 300 hours of standard definition TV.
---
Protect your business assets and access them remotely with this easy to use combination of reliable storage and automatic backup features. Windows operating system required for remote access.
---
Related Articles:
Leave this page on Western Digital External Hard Drives and return to the Homepage